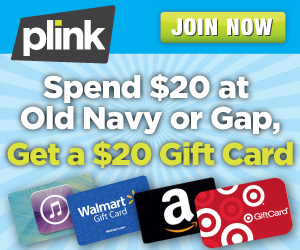 Update:  Sign up for Plink today, make a minimum $20 in-store purchase at Old Navy or Gap by Sunday, 4/14 11:59 EST, and they'll give you 2,000 Plink Points – enough to redeem for a $20 Gift Card of your choice at places like Amazon.com, Target, Walmart, Kohls, Starbucks and more!
(In-store purchases only, not valid for online purchases)
All right, so all this talk of saving money with Fiverr has you asking questions.  One topic that keeps resurfacing is Plink.
I'll admit, I wasn't all that familiar with it.  For you, I'll  learn about anything.  So, here's what I knew before I investigated.  Plink offers us an additional opportunity to be rewarded for dining and shopping OFFLINE.  How?  Well, I joined, learned, and I'm glad I did.
Step-by-Step
I signed up by connecting with my Facebook account.
After doing that, I was given a selection of 16 banks to connect a debit or credit card with my Plink account to receive points.  If your bank isn't listed, you can enter it in the available space.
The next step requires you to login as if you were logging into your bank account using that information for them to access and connect your accounts.
Once that was complete, I confirmed my email address.
Note: While there are no guarantees with any information we provide online, they use bank level encryption to secure your login information.  In addition, they only use your transactions to track your purchases for rewards.  Personally, I don't see that it's any different from UPromise in that respect.
How does it work?
Well, Plink has partnered with thousands of restaurants and stores who have agreed to reward you for shopping with them.   Simply add offers to your wallet and pay using the card you've registered with Plink when you visit these restaurants to earn points.
I had several offers from which to choose: United Artists, Regal Cinemas, 7-Eleven, Red Robin, Dunkin Donuts, Taco Bell, the offers above, and a few more.  There are three slots where you can add offers and two more that may be unlocked by sharing on Facebook and by completing your first Plink.
What is the benefit?
Well, in one trip to Outback Steakhouse I can earn a $5 Amazon Gift Card,  $5 Kohl's Gift Card or a $5 Tango Card!  If you aren't familiar with  Tango Cards, you can choose to redeem it at Target, Home Depot, Pottery Barn, and many other stores.
Personally, I think this is a fabulous way to save a bit more on things we already do everyday.  Tack Plink onto Fiverr as another money saving win!
Thanks, Melanie, Sara and Kelly, for making me take a closer look.  :)